A Beginner's Guide to The Lost Glitches: How to Get Started
Whether you are a newcomer to our community or did not have the chance to keep in the loop for a while and wonder how to best get started and get up to speed with The Lost Glitches trading card game, today's article is for you!

We will summarise our project's journey from the original 10k profile picture (PFP) The Lost Glitches collection on Ethereum, to developing our game and launching our gaming assets on the ImmutableX blockchain. We will touch upon our first set of cards called "Memories", the GENESIS version booster pack pre-release card drops that take place until the game will be fully released at the end of the year, and what you can do to get involved now! All this and more helpful information to prepare you for an optimal start for your future adventures in the Deep Sky Network!
Project Overview
The Lost Glitches started as a 10k pfp NFT collection on the Ethereum Network in August 2021. After successfully minting out within only a few days, we set out to complete our stated goal of becoming a web3 gaming company. After careful deliberation, assessments and receiving valuable feedback from our community, it was decided that the first title we would develop was going to be a trading card game (TCG). We already had in-house game development experience and understood that it was time to expand the team and find a professional partner to turn the premium quality TCG we envisioned into reality.

With Honig Studios we found the partner of our dreams, who shares our values, are TCG lovers and players themselves and have been wanting to develop a TCG for some time. Honig Studios is an award-winning indie gaming development studio from Berlin, Germany. Their last major title "El Hijo" won the 2022 Apple TV Game of the Year Award, as well as other prestigious awards! It was a match made in heaven and together with our new partner we created the blockchain gaming company Mimunga Gaming.
The Lost Glitches Trading Card Game
The Lost Glitches is a web3 TCG with role-playing game elements (RPG) that runs on the ImmutableX blockchain. ImmutableX is a layer-2 scaling solution for the Ethereum blockchain that provides the same security and decentralisation of the Ethereum network and enables near-instant transactions in a completely gas free environment and will soon feature seamless onboarding of traditional gamers without them having to have any knowledge about cryptocurrencies and crypto wallet management. It takes off a huge hurdle for player acquisition since the drop off rate when faced with for example having to create a MetaMask wallet, can be very steep among the traditional gamer demographic. What all this means is that, by providing an option that gamers are already used to (i.e. logging in with a username and password credentials) while seamlessly and invisibly managing a crypto wallet in the background, it will open the doors towards mass adoption of crypto technologies and bring a lot of new people into web3 and blockchain gaming without them having to know that much about it. It also means that our players can rest easy, since they do not have to worry about seed phrases or transaction costs and can focus on what matters most: enjoying The Lost Glitches game!
The Lost Glitches: Memories is a modern deck building game where players build their own deck and can test their card battle skills against each other in player vs. player matches and tournaments or play the single-player campaign and immerse themselves in the world of the Deep Sky Network. In short, a terrible glitch in the system of a proto-metaverse experiment called the Deep Sky Network, that people can connect to with their minds, went horribly wrong and forever trapped a group of people from all different kinds of backgrounds as digital ghosts and former shadows of themselves within it! These people became known as The Lost Glitches. Inside the network there is not enough capacity to allow everyone to completely restore and reconstruct their memories. Glitches are fighting for the right to preserve their own and their allies' memories on the battlegrounds of the different syndicates that have formed in the aftermath of the Glitches coming to grasp with their newfound reality and existence. The game will feature RPG elements such as progressing your character's level by gaining experience after each win and levelling up remnants, cultural artefacts that contain particularly powerful memories!

Players can unlock cards and in that way get rewarded for their time spent playing. There will also be other types of rewards and special events and tournaments where participants can enter to win Exclusive and Collector's edition cards!

If the players wish, they can mint the cards they have earned as NFTs. These NFTs are stored on the ImmutableX blockchain, making them secure, verifiable, and tradeable. Players can collect, trade, and sell their NFTs on decentralised marketplaces such as TokenTrove, giving players true ownership of their in-game assets.
How to Prepare for the Launch of the Game
If you cannot wait to get involved and join our community of gamers, deck building enthusiasts and card collectors as soon as possible, here is what you can do now to best prepare yourself for the release of our upcoming game! Get ready to explore and conquer the Deep Sky Network!
Mint GENESIS Cards!
Participate in the four remaining pre-release card drops and get your GENESIS version cards of the TLG Memories set! Genesis cards are very limited edition and only available once per drop that they are featured in. You also have a higher chance of collecting the cards you want to collect by participating in these very special drops. That is because each GENESIS booster pack contains five (bronze & silver) or six (gold) of 40 possible cards to pull in the drop, whereas once the game launches the boosters will contain the entire Memories set which is slated to be 300 cards in total. Another 100 cards will be released as an expansion, shortly after the release of the game.

GENESIS cards will likely become rare collectibles once all of the pre-release drops are over and the full game is released at the end of the year.
Buy Cards on Secondary!
You can buy already released cards on ImmutableX's secondary markets! Our favourite one is TokenTrove!

What are you waiting for? Get your Card Collector role on our Discord server today! The Card Collector role, as well as all Glitch holder roles, enables you to participate in Glitched Gaming events that take place between the pre-release drops and possibly win some $LOST tokens to spend on boosters for the next upcoming drop!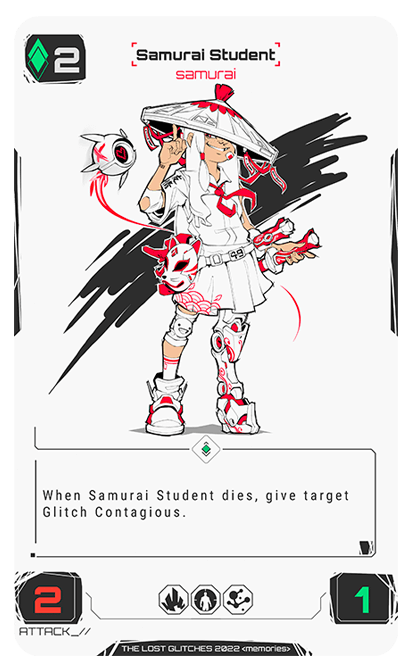 Collect Art Cards!
Participating in the GENESIS booster pack drops also qualifies you for receiving the Art card that is featured in the drop(s) you participate in. Based on one of the regular cards in the drops, Art cards are beautifully stylised black and white versions with dramatic red accentuations.
*Art cards are collectable cards and currently not playable in game.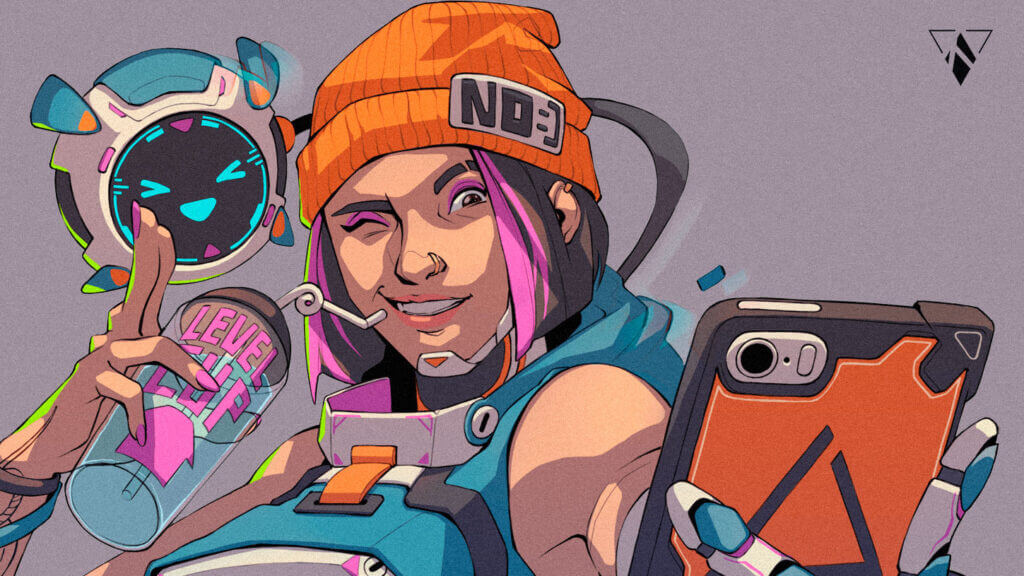 Connect with the Community!
Join our Discord, trade cards, raffle away and win cards in #the-lost-rumble, make new and interesting friends, discuss which cards synergise well with each other, come up with deck building strategies and much more!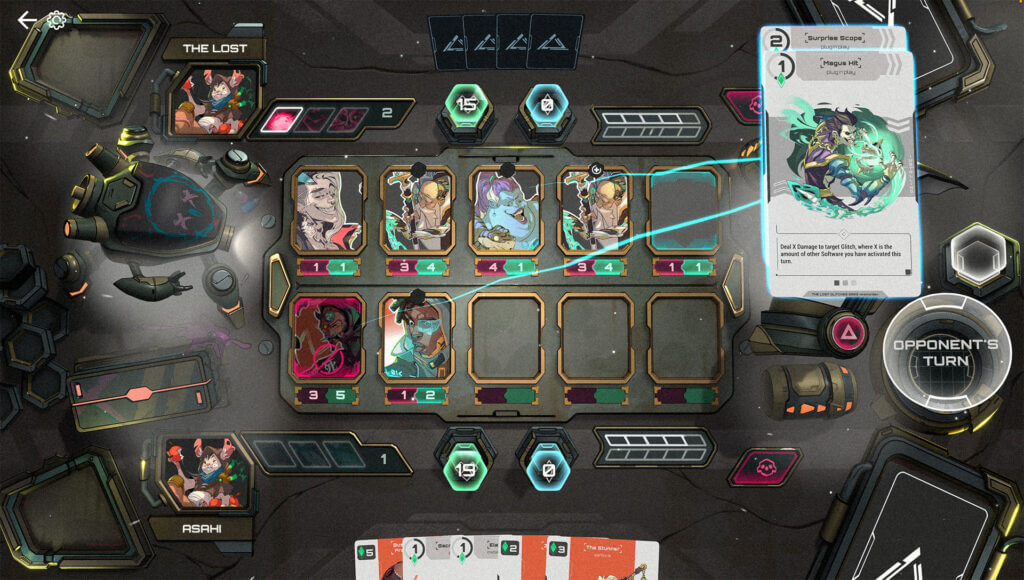 Alpha Testing!
Shortly after the conclusion of the third drop, we will roll out private alpha access to a hand-selected number of community members who have been actively participating and contributing to the community and our project in a positive and regular manner and work with other communities and streamers to get the word about our project out! We hope to include and invite more people to test the alpha with us as the time moves forward. Even if you do not receive an invitation to it right away, you are invited to take a V.I.P. seat with us on our Discord, where we will stream the alpha and have special events and matches for everyone to enjoy, see and get excited for! Get a firsthand impression of the state of our game and the amazing work that our game dev team has put in to make the Deep Sky Network come online for us to explore and conquer! The entire team has been looking forward to the start of alpha for a long time and are excited to show you first hand the fruits of the amazing work the team has put in so far!
Whether you have been with us since the start, for some time or are a new addition to our lovely and amazing community: If you are joining now, you are still joining very early and arrived here just in time for the amazing GENESIS pre-release card drops that feature rare GENESIS versions of our first set of cards called "Memories" that will never drop again!

If you love a world that is rich with deep lore, cyberpunk, steampunk, magic, creatures, next-level technology, samurai and other captivating and fascinating themes, you will feel right at home in the Deep Sky Network and our community of like-minded Glitches! If you on top of that have a love for or an interest in TCGs, deck building and blockchain technology, get ready for drop #3 and come join our wonderful community in the Deep Sky!